Our Infrared Sauna Therapies Include:
Infrared Sauna Therapy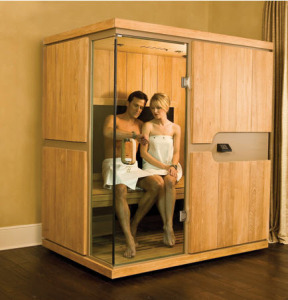 Infrared light is part of the Sun's invisible spectrum of light that has the ability to penetrate the human tissue. Infrared heat therapy uses these infrared light characteristics to heat the body directly rather than just the air. The experience of an infrared sauna is similar to sunbathing, which gives you the radiant heat that is all your own. The infrared heat penetrates your skin, giving you that wonderful natural warmth. Unlike sunbathing, infrared heat therapy is completely healthy and safe. You can relax in an infrared sauna and it will never cause your skin to burn.
Infrared saunas increase the body's core temperature thus resulting in a much deeper, more detoxifying sweat from the cellular level of the skin where many toxins are housed. Conventional hot rock/steam heat saunas heat the air with steam, which can often be unbearably hot and will cause you to only sweat at the surface of the tissue. Steam also makes the air difficult to breath. An infrared sauna uses soothing dry infrared heat that is well ventilated and extremely comfortable and relaxing. Infrared heat therapy has also been proven to assist with weight loss, pain relief, improved circulation and skin rejuvenation.
Acoustic Resonance Therapy
Experience a full-body, musical massage, as the vibrations of soothing music resonate throughout your sauna session to induce deep relaxation.
SO Sound® combines the healing effects of sound and vibration to harmonize all systems of the body bringing you to a deeper state of relaxation.
Attached at specific locations in the sauna, the SO Sound® system uses an amplified audio signal to resonate sound waves to the surface of the sauna. Listening to soothing music and feeling it resonate throughout the body stimulates the body's natural relaxation response. It feels like light touch massage during your sauna session.
Chromotherapy
Enjoy the healing benefits of light and color with Chromotherapy in your Sunlighten sauna session. Establish natural balance and enjoy the healing benefits of light and color with Chromotherapy in your Sunlighten sauna session.
Chromotherapy is the science of using colors to adjust body vibrations to frequencies that result in health and harmony. Humans need the sun's light, which is broken into seven distinct rays, to live. If there is an imbalance in these colors within our bodies, it can manifest itself in mental or physical distress. Each color possesses frequencies of a specific vibration, and each vibration is related to different physical symptoms. Chromotherapy works on various energy points to help your body re-establish its natural balance. It accomplishes this via the full spectrum of visible light, each color of which addresses a separate bodily need.
Chromotherapy health benefits are: